This is perhaps the best post so far. I bring you a collection of amazing fantasy back pieces.
Here is a dragon, with what looks like a weird bloody/flaming tail tip, some huge balls, and strange blobs flying around him: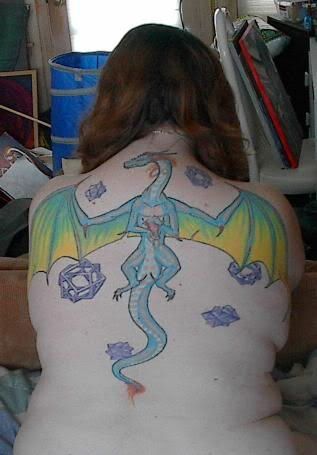 Okay, so this isn't strictly fantasy, but the winged horses make it fit into this category enough. There are also a bunch of angels, some weird tribal stuff, some praying hands, and a bad portrait way at the bottom. My favorite is the angel to the left with the ribs sticking out and the very awkward boobs.
Back to straight fantasy. This dude has some cool multicolored clouds, a skull moon, some kind of beast on a cliff, and I think there is a spiraling tower castle in there too, but I am not sure.
This guy has a moon and a cliff and a castle too. And a Pegasus and a dragon. What I don't understand is if you're going to get a straight-up fantasy piece, why go with an Asian dragon and not the Euro fantasy dragon?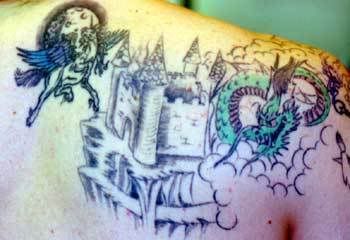 And of course I saved the best for last. Again, there is a skull moon, and a cliff, and a castle (actually a couple), and some kind of horse (unicorn not Pegasus this time) but this guy has planets too! Planets in tattoo form are A++. He also has what looks like a wizard but he's cut off at the top of the photo and you can't see anything but a tip of beard. I wish we could see the whole thing.