The very first tattoo done in Van Diemen's Land, is none other than a tattoo of Ned Kelly. I know many people don't know who Ned Kelly is. Even I had no clue who he was, until I was told that he was the Australian Bushranger - The Australian Iron Outlaw. In other words, boys and girls ; He was the real Australian Gangster !!
Edward "Ned" Kelly (January 1855 – November 1880) is Australia's most infamous bushranger and, to many, a folk hero his defiance of the colonial authorities. Ned Kelly was born near Cragieburn, now in north suburban Melbourne to an Irish convict father, and as a young man he clashed with the police. Following an incident at his home, police parties went in search of him. After killing three policemen, he and his gang were proclaimed outlaws. A final violent confrontation with police at Glenrowan, with Kelly dressed in home-made plate metal armour and helmet, led to his capture and trial. He was executed by hanging at Melbourne Gaol in 1880. His daring and notoriety made him an iconic figure in Australian history, folk lore, literature, art and film.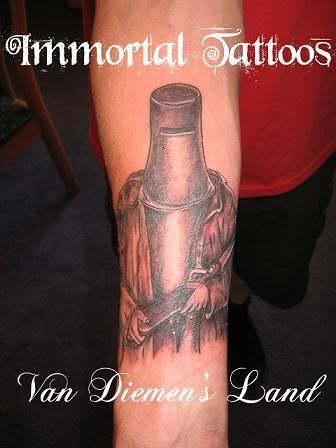 Ned Kelly survived to stand trial, and was sentenced to death by the Irish-born judge Sir Redmon Barry. This is case was extraordinary in that there were exchanges between the prisoner Kelly and the judge, and the case has been the subject of attention by historians and lawyers (see Philips). When the judge uttered the customary words "May God have mercy on your soul", Ned is reported to have replied "I will go a little further than that, and say I will see you there when I go". He was hanged on 11 November at the Melbourne Gaol by Elijah Upjohn. Although two newspapers (The Age and The Herald) reported Kelly's last words as "Such is life" and two other newspapers as "Ah well, I suppose it has come to this. Such is life", another source, Ned Kelly's gaol warden, writes in his diary that when Kelly was prompted to say his last words, he (Kelly) opened his mouth and mumbled something that he couldn't hear—and since the warden's office is closer to the scene of the hanging than the witnesses' allotted space, Ned Kelly's last words actually remain uncertain. Sir Redmond Barry died of the effects of a carbuncle on his neck on 23 November 1880, twelve days after Kelly.
Read More at : http://en.wikipedia.org/wiki/Ned_Kelly