What better way is there to spend in Van Diemen's Land other than gettin wasted? Haha !! Well you get more wasted than ever with Cameron Grant - Bassist of Death Metal Band - PSYCROPTIC !!
Ladies and Gentlemen, and to the many who don't know who or what Psycroptic is, well you don't know what you are missing.
Psycroptic was formed in 1999 and immediately set out to create their own style of darkened death metal. Consisting of originally of Cameron Grant (bass), Joe Haley (guitars), Matthew Chalk (vocals) and David Haley (drums), the four came together after the bands they had played in disbanded.
However in 2005 , ongoing disharmony and tensions resulted in the rest of the band asking Matthew to leave in March 2005. In April 2005, Jason Peppiatt (Vocals) was asked to join Psycroptic.
Close to 8 yrs now, Psycroptic has performed and toured with Deeds of Flesh, Dismember, Cannibal Corpse, Kataklysm, Nile and Deicide.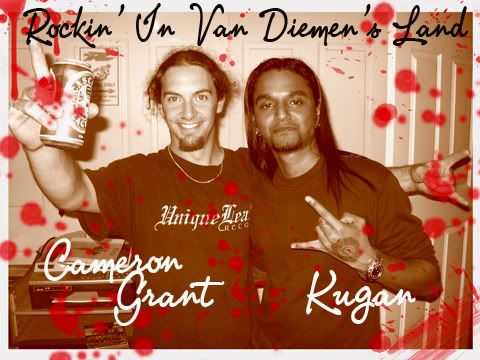 Look how wasted I am. I can't even throw the horns properly. Haha !!
I wish Psycroptic a bright future and will have full support of Immortal Tattoos, Singapore. You rock !!
Boys and girls who are into death metal bands - Your collection is not over until you get Psycroptic !! They are the Metal from the Isle !! Go get their CDs or merchandize now !!
By the way Cam, I know you are reading this. When I come back, I am gonna ink you either way, even if you don't know what you want to get.
MAY THE LORD HAVE MERCY ON YOU !! haha !! ROCK ON !!
For more details : http://www.psycroptic.com