I think there is a trend of getting bad chest tattoos with bloody writing. Please tell me this isn't so, and it's just these three unfortunate dudes.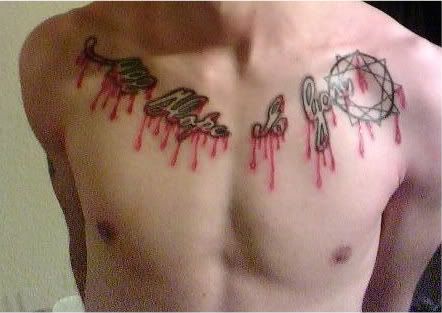 "All Hope Is Gone" -- not a very good thing to get when you're young (I cropped his face out of the photo, he looks like he is 17). Also what's the logo on the right? I assume these are bad lyrics of some sort.
"Blood Is Forever" -- I guess this is a way of celebrating family, but there is surely a much better way to do it. Also the bloody cracked Batman logo is an a+ addition there, buddy.
"Pull The Trigger Bitch" -- sdkjfhsdk I can seriously not think of a worse thing to get tattooed on your chest for all time. Do you think he will ever have sex with anyone ever again? I guess he'll just have to keep his shirt on indefinitely!