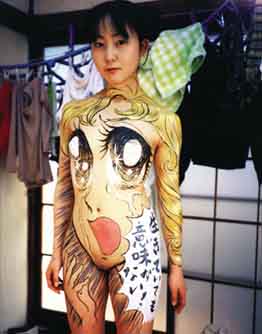 For several years now, the
Tokyo art scene
has been trying its best to keep up with the work of Makoto Aida, a task made difficult by the fact that it is nearly impossible to anticipate where the enigmatic artist will go next. At the ripe old age of 35, Aida has covered most of the artistic angles with an oeuvre that includes manga, painting, video, and installation, executed with such a wide range of expressive qualities that it is difficult to believe all could have been created by a single artist.
So while most were amused, few were surprised to discover that the entranceway for the scruffy artist's latest show requires visitors to climb a three-step ladder, hoist themselves through a hole in the wall and slide down a three-meter-long "tongue" in order to get inside. Making an artful and fun entrance is what the show, "Otoko no Sake," is mostly about – the splashy installation that cover the floors and walls of the Mizuma Gallery in Tokyo's Shibuya Ward evolved over a period two weeks, as Aida worked with the eager assistance of 40 community college student apprentices.
The lightweight art filling the tin foil and cardboard-covered gallery includes a wall full of crepe paper flowers, a large water tower photograph, a crude cardboard mobile featuring giant mop, broom, and toilet plunger, and several painting on board pieces that resemble theater scenery – the most impressive of these depicting a blender filled with human bodies.